BLOG
Monday, March 26, 2007
- 6:53 PM
tipar na to dude.
alright. i have a lot of things to say so damn it with the introduction.
MOVIES
ok, loser mode na naman ako kasi i watched two movies alone. anyway, two movies up.
300
so i watced the film. i didn't want to at first but my friends were talking about how good it is so very often so i had to watch it. di ako maka-connect with usapan eh. and ms. pinera's lessons turned into a movie? i had to watch it.
the story is about 300 Spartans, led by their king Leonidas (Gerard Butler), and their battle against the Persian king Xerxes (Rodrigo Santoro) and his quest to conqeur the whole world.
the whole movie is about the fight scenes, and i mean THE fight scenes. the film had a lot digital what-so-thems and it actually worked. i am not a fan of amputated human body parts, but this movie made it a bit tolerable (blood ain't in red, that's good). what i like the best is their marvelous costumes. ugh..the queen's dresses were guh-reat. but i guess some enjoyed her when she's not in her wondeful costume. haha.
the graphics were great as well. it helped give drama to every blow the Spartans and their enemies throw at each other. the music also fit into the movie. rock-ish tunes are a strange choice but it gave a hell of a good effect to the movie.
hell yeah. today we dine in hell.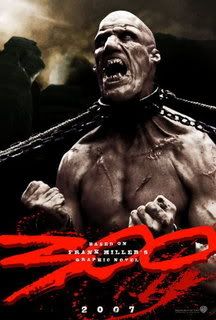 Because I Said So
fom 300 Saprtans we go to three women and their cranked up mother.
Mandy Moore, Lauren Graham and Piper Perabo play Millie, Maggie and Mae, are Daphne's (played by Diane Keaton) twenty-something daughters. Daphne wants her daughter Millie to be wed, and since Millie's not doing so good in the men's department Daphne decides to help her out by placing an add in a dating site.
when two guys came up, Millie is thrown into a whirlpool of emotions and decisions. but in the end, only what is true will work out.
okay, comments. i wasn't expecting much from this movie. but hey, surprise surprise.
i love how light the movie is. it made me feel good about lurve. yeah, all the mushy stuff. go watch it if you want to feel good. make sure you have a date, para may ka-sahare ka ng thoughts. hehe.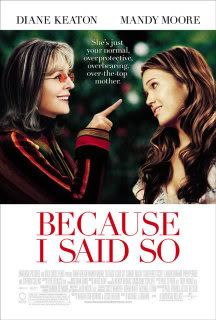 Tipar and others
now other than watching movies, there's this one thing i want to share with you guys.
last Tuesday i went to Embassy with some friends. i was so bored that night so i thought i'd go to this event.
i arrived late, since it was a last minute thing. the event was a launch of a new window's phone, the Palm Treo 175, but i wouldn't talk much about it. the event was boring. really. and these little midgets at the front who were writing down notes (kasi mamimigay ng phone later) actually scolded me kasi i made tabi with them. gah.
so i decided to leave and find party someplace else. but all i ended up doing was geting a taxi ride from makati to buendia and from bundia to cubao. no parties found. zero.
in cubao i was actually thinking of geting some booze, but it was so lonely to drink alone so i just puffed a few smokes wgile thinking of the next thing that i'll do.
while smoking, i noticed this one guy lurking around. i realized what he was immediately (pick up) but i decided to play with him, just for fun. he approached me and asked me what i am doing there. i told him i went to makati but i got bored. he replied, 'dun ka tumatambay? marami ba dun?'
i think he thought i was a pick up myself (cue thunder). i told him i was not. 'sa tingin ko ano ka e...ano ba yun..tripper ata,' he then said. i just laughed at him and asked him how business was doing. he said it was bad. 'sila-sila nalang din kasi ang ang nag-aano e.' he said.
i find this guy's pananaw very refreshing. napaka-simple lang. i talked with him a bit more, and then i saw this guy waiting for a ride home (i guess). he was cute so i decided to take another look-and i caught him looking.
since i was on the hieight of doing what i don't usually do, i decided to see if i was right, if he was really looking at me. i glanced a bi more and i was correct. he was still looking, but wen we see each other looking we would 'shyly' look away. i smiled.
he was leaving so i said g'bye to the kuya and i rode the jeep the guy went in. hehe. very not me. in the jeep, i still throw some glances at him and he at me. one long glance and then we laughed. i finally asked him what his name was.
so there. we're friends now. kulet noh? anyway, i don't think i could ever do that again.
till here for now.
-
Friday, March 16, 2007 - 10:15 PM
of music, lyrics, alcohol and white blood cells
'...all I want to do is find a way back into love..'
i went for a movie the other day and i loved it. well, it was a date movie and..er... where's my date?
haha. anyhow, i watched Music&Lyrics starring Huge Grant and Drew Barrymoore. well, to tell you honestly, i didn't really want to watch the film. it just so happens that it was the only film worth watching by the time i arrived in Gateway (which isn't even Gateway anymore- it's Gayway, all the gays and bis munched up the T. haha). i was planning on watching It's a Boy Girl Thing.
so there i was, cold, practically alone. haha. melodrama. grr. so it starts.
the movie is about Alex Fletcher, a member of a once-popular-but-now-a-has-been group in the 80's who's living in his faded glory by going to batch reunions and swinging his hips to their has been hit 'Pop Goes My Heart'. he lands his biggest break since his days of glory when young pop artists Cora Corman (bigger than Britney and Chistina put together!) invites him to write a song and record a duet with her. great news-but there's a big problem. Alex doesn't write lyrics. Enter Sophie Fisher, a substitute to Alex's plant woman. she showcases brilliance everytime she spontaneously utter a rhyme. genius-just what Alex needs. Shopie didn't want to work with Alex at first but when they started to make music together, everything seems to be just right.
i like the song they came up with. i mean, come on! i lurve it with a capital L. the movie is a story of how you should stick up to what you believe in and on what love could do for two broken souls. arg. the movie made me want to grab the guitar and make up a rhyme of my own. pero nakakatamad parin eh, hehe.
anyway, it was great and it is a good movie, especially when you want to feel good.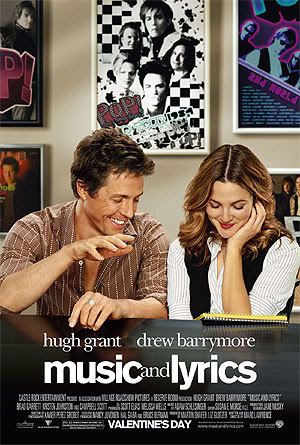 ----------
last wednesday i went to UST to watch plays directed by my friends. they were remakes of musicals, one was for The Phantom of the Opera (i love the girl who played Christine, nice nice voice) and the other was for Grease (Joy Festin always gives acting an umph!). both of the plays were good, given that they were just final exams for one subject and that most of the cast and staff of the two productions weren't really trained to do theater. kudos jmee and mingu!
after the plays, my buddy kuya cyril, gabso and i went to get some booze. the three of us somewhat are in the same situation in love. i won't give details on their stories, but typically you could say were broken. tsk.
coke + grand matador + pulutan + emperador = a great conversation.
in the midst of alcohol and calamares i somewhat blurted out someting about how i am in love now. i have compared my self to a white blood cell. you know how they work? whenver there's something in our body, like when you have a wound or when a bacteria tries to ruin something, the white blood cells always come to the rescue. well, taddah! white blood cell here.
i went home a little boozed and light headed, but i felt great.
anyway, sorry if i couldn't give this post someting deeper. i'm running late for work. maybe by the next post.
toodles.
-
Wednesday, March 07, 2007 - 5:27 PM
ferk
when your heart breaks, every friggin love song seems to make the best sense.
last night i went out with
jmee
and
mingu
after Artistang Artlets' election for new officers. i had to talk about how i feel with someone, and these two always were the best someones to talk with.
after dinner at UST we went to starbucks tomas morato. i told them about everything. and i will be writing it here.
yup, what that happening thing already happened and i can now write about it.
you know that movie MY SASSY GIRL? it is about a girl who was gravely broken by a past relationship and a guy who tried to fix her up. well, that was what i was doing-fixing someone up.
it was friendly at first. i just saw him there looking like hell so i talked to him and we became friends. and i fixed him. i put every sense i had into his broken, stupid heart. eventually he was getting over it. he started smiling again. his text messages doesn't just consist of 'di ko na kaya' and 'i miss him so much'. great, my work's paying off.
but the thing is, as i help him out i started falling. shit (forgive me fore the profanity, but i might be using more of it n this post).
it got harder for me to act
normal
around him. we were 'bestfriends', and i hated the fact that i am liking him in a totally different way. soon i was feeling something so strong that i didn't know what to do about it. i started throwing my phone (syempre sa malambot na bagay lang) whenever he texts me up. i talked about it with officemates, telling them that i would eventually get over the feeling. i was telling people this, not to make them believe, but probably to make make ME believe.
in UST while having dinner, i told jmee and mingu that i know i would have to leave him when he heals. during the ride to tomas morato, it was confirmed. my job was done. a message from him tells that he was happy. i got the idea, i didn' have to ask. i said goodluck. he replied with 'papakilala ko siya sayo pag ok na.' boom. broken. i didn't speak for the rest of the ride.
i wanted to cry, but somehow i couldn't. we were in starbucks, drinking our way into the night. mingu told me i knew what i was getting myself into but i still went through with it. jmee asked me what i plan on doing. told them that i will have to leave him, because i cannot continue smiling as he tells me how happy he is with someone. jmee said i was running away. i told her i cannot stay. i just can't be friends with him anymore, maybe not forever, but not now.
we packed up and left starbucks. i didn't want to go home so i followed some other friends to a bar. i wanted booze. funny how i didn't get drunk. i danced like i never did, thinking that this night i will break free. i'll return to the stoic me.
and now, i just sent him my last message. i told jmee that i will leave him with a question. it's 'what if i suddenly vanished. stopped texting and showing up. what would you do?'
to end this post, i'll live a poem i made at work. proof that i was having something really heavy.

FERK

as i look in the mirror i was surprised
because i can hardly recognize myself-
is that me smiling?

a smile.
i never saw that smile
or maybe i did
it's just been so long since i last saw it

but why am i smiling?
why am i smiling about HIM?

it doesn't mean anything when he said
he misses me
even if he says it everyday
and everynight

so what if he says he wants you where he
is
wherever he goes and as often
as possible?

it doesn't even say anything
when he brings you to your office
and calls you up once in a while
just to check

and when he asked you if it was okay
to go out with an old friend
and asked you if you were angry
you said you weren't, right?

then i said,
i'd rather smile now because i know someday i might
have to leave him

once his heart heals,
my job is done
and it would be my turn to heal
because as i help him heal his wounds
i make some of my own
and he will not understand why i have them
or at least
he shouldn't know

afraid to let go of the feeling
even if i know it's best
what an irony, how i help him with his heart
and how helpless i am with my own

if i seek your help
will you feel what i feel now?
just thinking. no, hoping
that you might

stupid, that's what i am.
and stupid i'll remain till that day when
you wouldn't need me anymore.

and when that day comes
i'll look back in the mirror and see
how that smile made me change
and how that change made me smile.
-
Monday, March 05, 2007 - 12:30 PM
random halo-halo part II
okay, i'm running out of ideas for my titles.
from the last time i were here sobrang dami ng nangyari. as in. but some of them are still happening thus i can't write about them yet. and believe me, i really want to write about 'em.
but let's just settle with the things that i
can
write about- starting with none other than
work
.
----------
yep, work. february ended really well for me.
to get into the winner's cirlce, you must achieve the ff:
aht (average handling time) of 4minutes and 30seconds
adherence not lower than 90%
and observation scores not lower than 90%
aht
well, since i am a newbie my goal was set at 6minutes even. and hey hey! my ending aht for february is 5minutes and 24seconds.
adherence
adherence is simply logging in and out on time and clicking available plus your attendance. bawal absent, and since perfect attendance ako (which is really something, kasi when i was in school sobrang absentee ako) i have qualified. dagdag pa ng incentive from tje company.
observations
this is when quality analysts (both local and from atlanta) randomly pull up your calls and scrutinize 'em till your starting 100% goes down big time. fortunately, the lowest o got for feb was 98%. hehe, talk about lucky.
to sum it up i qualify for gold. secret on how much it adds to my sweldo, hehe. *ngiti*
----------
maiba naman.
i am so like the song 'hand in pocket' right now. ugh. but the reason behind it is something i cannot write about now.
maybe, maybe in the future. when my job is done and i am no longer needed.
tsk. that's it for today.
kapish.
-