BLOG
Friday, December 30, 2005
- 11:45 PM
mantakin mo nga naman oh, one year na pala ang blogsite na ito??
yes, this blogsite have been running for over a year now

.. and who would've thought? i started this thing up when one of my friends asked me if i had a blogsite.. so i made one.. you see, he was not in the country by that time.. so i guess by blogging i would be able to keep in touch a lot better. and i thought it would be a good traing ground for my career.. yes, it's you James (a.k.a juh-mes) who inspired me to make this site. remember?
through writing, i have expressed so much of myself.. things that i wouldn't have realized if i haven't been blogging them. i have also seen a difference on the way i write.. ugh.. i owe so much to blogging.
ok, i'm really turning mushy now.

hehe.. basta. thanks for reading me.. everyone.
anyway, i have been to the white party last night (and up until early moring). i came with my friends.
we arrived at the world trade center at around 12am, and when we went in, they were halfway through this ramp modelling stuff. luckily, we were able to come in time for the flying dancer's routine. ahehe.. they were hot.
with most of the people filled with booze (i, on the other hand, was not.. i mean, hello? a hundred bucks for a bottle of san mig light? no way), the dancing began.

the people were great.. some of them were sporting really great white costumes. angels, polar bears, and to my pleasure, encantadia characters were all around.. and take note, they were sexy angels, polar bears, and encantadas. ahehe..
i danced a little, looked at people a little (or a lot), but i sat most of the time. thankfully, he was there. i got to talk with my friend jhay. he says he just had a break-up, so i automatically turned into my "it'll be alright" mode. hehe..
we got out of the party at around four in the moring, but i didn't want to go home just yet, and so did my new friends melvin and breyzen. we went to malate at the providence ktv bar and sung our lungs out. then we ate at wendy's.
my gimik turned out to be good. i got to meet new friends and all.. happy.
sabi ko 30 minutes lang me mag-oonline. but as usual.. i have been online for 3 hours already.
time to sleep.

-
Friday, December 23, 2005 - 9:27 PM
'because of a lack of experienced trumpeteers, the end of the world has been postponed..'
argh.. finally, our december prod is over! OVER! days and nights of constant nightmares are finished.. as of the moment.
i wanted to totally breakdown last week. it was a really demanding production. on our first show, i literally had a headache. i wanted to die!! thank goodness i had my friends to bring me back to sanity. the play went a little rough on the first day, because we really didn't have time to have our TDR (technicals and dress rehearsal). on the second day, we kinda had a good show.
basta, it was a great relief that this prod is finally finished.
Paskuhan.
yes, it's been quite a while since i've last posted. anyways, UST had its annual paskuhan last Tuesday.
i met two new people: pj, who i met at robinson's metroeast (sabay kaming pumunta sa UST) and laurence, yung makulit kong friend na sinundo ko pa sa BEATO. =s
basta, the night started out fine. but during the latter parts of the Paskuhan, i got really pissed off. it was because of this particular person i am starting to dislike by the minute. this person is such an ass, because she feels really superior to me. well, yes. she is superior when it comes to one aspect: theater. but hell! she's just another human being when it comes to life! heck, i've done things far beyond my years. grr.. it just makes my blood boil when i think of her.
enough about that, it just makes things crappy. i made this poem when i was at the paskuhan. it was an interpretation of a drawing my friend kimmy made. it's like this.. kimmy likes this guy, but the guy doesn't seem to be interested. she drew a sketch of the guy, and i made a poem.
it took me 3 seconds to realize 400 years with him
it took me 756 pencil strokes to be dissolved in him
it took me 24 hours of day dreaming, 30 minutes of 'hellos' and 56 conversations with my friends just to confirm my feelings for him.
it took me 873 steps for him to see me pass by...
half of which, i took with my friends
it took me 3 times more heartbeats when
he passes by, plus a thousand more if he comes near
and all he needed was ONE move...
one move that he didn't take...
i guess we're just 'unmeant'.
she cried after reading my poem. she says that it was just like what she was feeling. i believe i did a good job (big head). joking aside, maybe i did a good job on this because i was with her all the time. am i a kind of empath because i was feeling what she was feeling? or is it because i was feeling the same thing for a different guy? wah! i'm going nuts!! i don't want to fall again! i can't be weak..
help.
-
Sunday, December 11, 2005 - 2:14 PM
movies and life
Paranoia...
last friday, my professor in journalism saw this dvd on top of the table. she asked us if we've watched the movie (most of us answered her with an empty stare). she said it was a good movie and that we should watch it... so i borrowed it.
i thought that it would be really boring to watch another movie with a 'racial discrimination' theme. but then again..
Crash
, a film directed by Paul Haggis proved me wrong (oh so wrong).
the movie is a creative connection of different stories of different people from different 'races' and different lifestyles. each story would unfold pages of the lives of the other character. there are cops Graham and Ria (Don Cheadle and Jennifer Esposito). there's the district attorney and his wife (Brendan Fraser and Sandra Bullock). there are criminals (Ludacris and Larenz Tate). there are some more cops (Matt Dillon and Ryan Phillippe). there's a TV director and his wife (Terrence Dashon Howard and Thandie Newton). and there's a locksmith and a shop owner (Michael Pena and Shaun Toub). all of their m****f*****' lives are intertwined. all of them have problems.
i have to tell you one of my favorite story was that of a white cop (Dillon) and a black couple - director and his wife (Howard and Newton). Dillon molests Newton in front of her husband (finger.. you know..) while they were 'under his custody'. Howard couldn't do anything and gets even more degraded by apologizing to the officer. this made friction between the couple and eventually they had a fight. at the latter part of the movie, Newton got into a car accident and Dillon was the only officer who could help her.
She refused at first - of course, after that beastly thing the cop had done to her. but here comes the nice part, Dillon did everything to help the lady.. even when the car got caught on fire.
i have realized that there is a big gap between the races in america. it seems that having a gun gives you an upperhand in things.. but the movie doesn't just make you realize that there are a lot of crime and transgression and other bad stuff out there. it also let's you know that there are still good things happening.
Crash is a movie full of twists and turns that would surely keep you on your feet (literally and figuratively). this movie is one of the few that almost brought me to tears.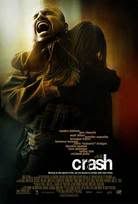 watch it people, WATCH IT!
-
Monday, December 05, 2005 - 12:38 AM
shit happens.
everytime i try to go into a relationship, i give all of myself. 100%. no more, no less. but with all of the passed relationhips i have had, i have learned to hold back. before, it's pure heart. now, i use my brain..
damn.
i thought if i held back, i wouldn't be hurt. wrong! i still feel pain, the same pain that i am so used to feeling. but the holding back that i did have its effect. it acted as a pincussion, for the blog that i was expecting.
i mean, what is there to expect? from the start i felt that he wasn't that serious. he was doing it just for the sake that 'he got me.' it was his bestfriend at first.. he told me that his bestfriend liked me. then he told me that he liked me too. flattery.
of course, i tagged along. i wanted to see what was going to happen. i chose him over his bestfriend. i thought it wouldn't hurt to try. but i had this feeling that something was not right. i should've listened more closely.
ughh.. i've let myself get into thi 'relationship' of sorts. i played with the players. i had a bad feeling even from the start. i wanted to feel how a player feels, because i was almost always the toy. but i couldn't handle it. i couldn't turn bad. i am loyal.
8 minutes. it's been three minutes since the break-up. but is it a real break up? have we been really a piece for us to be broken? we were more of a puzzle with some of the pieces lost. we were not whole to begin with, so i couldn't really consider this a break up.
or am i just saying this to console myself.
sigh.
-
- 12:25 AM


you see, i am a mage of FIRE. Burn! Bwahaha!!



-
Thursday, December 01, 2005 - 8:28 PM
and then there was crap.

i have not been myself lately. is it just me or is everybody changing? my friends seem to be having troubles with their lives as well. ughh.. what is happening? can anyone tell me that everything is going to be just fine?
anyways, the december production is making me feel all nauseous inside. everythings falling down. and the irony of it is that the play is supposed to be a happy play.
oohh... look at me, i'm mr. sunshine! i'm gonna make you smile! i'll make your lives all good.. NOT!
on the brighter side of thing-yes, i have good things to write about too- i have watched a really satisfying game of badminton this morning.
HRH Princess/Sujitra Ekmongkolpaisam THA Vs Irene Chiu/Vanessa Tanco
do any of you know the meaning of HRH? if you, by chance, do not know what it means, then i'll tell you. HRH means her royal highness, which is coincidentally used only for people of blue blood. yes earthlings, our team fought with royalty-and we won in a royal manner.
like, eewness. our team won against
her royal highness
with the scores 15-0 and 15-2. no sweat.
her royal highness
was making all of the mistakes possible, to the delights of the filipinos watching (including me). hah! this proves it. not all the princesses get their happily ever after.
i have a quiz later. i have skipped two of my class and i am currently missing my third class. i am doomed.
good day.
-