BLOG
Saturday, August 27, 2005
- 9:45 PM
Tonight I Can Write
Tonight I can write the saddest lines.

Write, for example, 'The night is starry
and the stars are blue and shiver in the distance.'

The night wind revolves in the sky and sings.

Tonight I can write the saddest lines.
I loved her, and sometimes she loved me too.

Through nights like this one I held her in my arms.
I kissed her again and again under the endless sky.

She loved me, sometimes I loved her too.
How could one not have loved her great still eyes.
Tonight I can write the saddest lines.

To think that I do not have her. To feel that I have lost her.
To hear the immense night, still more immense without her.

And the verse falls to the soul like dew to the pasture.
What does it matter that my love could not keep her.

The night is starry and she is not with me.
This is all. In the distance someone is singing. In the distance.

My soul is not satisfied that it has lost her.
My sight tries to find her as though to bring her closer.

My heart looks for her, and she is not with me.
The same night whitening the same trees.

We, of that time, are no longer the same.
I no longer love her, that's certain, but how I loved her.

My voice tried to find the wind to touch her hearing.
Another's. She will be another's. As she was before my kisses.

Her voice, her bright body. Her infinite eyes.
I no longer love her, that's certain, but maybe I love her.

Love is so short, forgetting is so long.
Because through nights like this one I held her in my arms
my soul is not satisfied that it has lost her.

Though this be the last pain that she makes me suffer
and these the last verses that I write for her.

-
- 8:36 PM
rain. i like it when it rains.. it makes me feel.. nostalgic..
anyways.. my body will rebel againts me soon. i've been using, misusing and abusing it for the passed few weeks and 'it's taking its toll on me.'
today, i turn back to my highschool days. i watched the municipal meet, xempre i was cheering for my school. i played a little volleyball on the side (this is inevitable.) i also got to see my former co-varsity members. ahh.. nothing beats a good 'ol spike to keep your spirits high.
tpos nun we went to chowking for food. then we talk..
haay.. i miss all of my highschool friends.. lalo na sina chelle.. i have so much to tell them.... as in so much.
change topic. pano kung si garci at si GMA ay nag-usap gamit ang gay lingo? hmm..
GMA: Hello Gracia??!Garci: Mother! Natsuksak ko na yung mga chuva ek!GMA: bonggacious! eh yung mga tienes tienes carry na ba?Garci:
Winnie Santos Mother! wiz na worry kay Aling Minda! Now na!GMA:
Ay ang ganda ever! oh, Zsazsa Padilla na.. baboosh!
how cute!! i've seen this on our rooms whiteboard and i just had to share it to you guys!
well, till here then. wish me well!!
-
Sunday, August 21, 2005 - 1:50 PM
at long.. looong last!!
wah! i've been soooo busy with the freakin' AA that i haven't got time to blog.. i don't get enough sleep.. hindi na nga ako nag-e-LRT kasi late na kmi umuwi eh..
oh, i'll be playing a part in the main prod of the Artistang Artlets.. hehe.. 25th year na toh so expect things to be good.
anyways.. here's some of the highlights of my oh-so-tiresome life:
mariposa.. a love story
haaayy.. i'll be acting a minor part in our major prod entitled Ang Malupit na Enkanto ng Mariposa (The Butterfly's Evil Spell). heck.. the play is not 'your ordinary highschool play', and it's the biggest production i've ever been included in.
rehearsals have been very tiring.. i come home at 9pm.. arriving around 11pm. yes.. pretty tiring, pero it's okay. i get to hang with my friends from AA a lot longer. i love 'em.
prelims.. tsk tsk.
prelim grades came out.. and i didn't do so well. i was half expecting to fail all of my prelims because:
1. i don't attend much of my classes
2. i didn't even flip a page to review
but i still passed them.. how i did it? i paid my teachers to pass me on my tests.. NOT! i don't have any idea how i passed my exams.. mataas pa nga ung ibang grades eh.. nyahehe..
well, i can;t think of anything else to write.. sorry if my posts become crappy by the minute.. hehe.. i'll do better after my busy days in uste (kelan kaya yun?? hehe..)
geh geh.. till next time!
-
Wednesday, August 10, 2005 - 6:41 PM
Pity
by gab caraon
Oh what a pity, i feel for those
Who walks a life of grief and woes
People of filth, people of soil
Who couldn`t do anything but critic my toil
Oh what a shame you bring to your name
Whenever you play your horrible game
Of pulling down others who are near to the top
You`re such a sham, and please, would you stop?
Oh what a pity, a pity i feel
For you, beloved enemy of the surreal
Step out of the darkness, step out of the murk
And get a life of your own, you filthy little jerk!
do you know everything about this poem? guess not..
well, the thing is, some of you might think that this 'hate poem' pertains to you.. this is very reasonable because you don't know anything about it...
i wrote this when i was in highschool..
anyways.. i would just like to tell you not to make any comments on anything that you don't fully understand.. it wouldn't do anything good.. it just wouldn't..
tell you what.. do you understand me? how could you tell me what 'loving this section means'? do you know the section better than i do?? we are all on the same ground when it comes to knowledge of our section.. or so i believe. if you disagree i would like you to tell it to me in person so that i could understand..
i ask you: what is YOUR goal in YOUR post? do you want us to see that the class is composed of totally different people, which means that it is close to impossible for our class to 'love each other'?
opinions. we all have 'em. and it doesn't mean that we must have the same opinion.. it's just that i do not understand why people should take someone's opinion so seriously.. i mean, there are other things to focus on.. and pathetic is sush a strong word.. have YOU asked yourself what pathetic is??
hmm.. plastic. many have used this term to describe someone who shows different faces with different people.. i must say some of you would make such a successful undertaking on this field.. you are so 'in the shadows'.. show yourself.. at least to those you have a grudge on...
please, you must understand things first before you comment on it..
i don't want a fight.. i just want to understand why people could get so.. negative about things..
i would like to hear the answers from you.. written words are insufficient..
tell me. i'll listen.
-
Monday, August 08, 2005 - 11:30 AM
ughh..
i had my freaking prelims in journalism a few minutes ago and my brain is still aching from the torture..

well, i guess it would be easy for those who've forced their mind to endulge in the boring theories of communications and memorize the names of those who've made our lives a lot like hell.. those who've come up with the said theories..
for example:
magic bullet theory- Philip Hauser & Herbert Bloomer
traditional flow of mass communication
two-step flow theory- Elihu Katz
hypodermic theory- Philip Hauser & Herbert Bloomer
see what i mean? ughh.. i'm sooooo totally gonna fail..

i hope my recitation would keep me alive.
stand by.. more to come later.
-
Sunday, August 07, 2005 - 5:33 PM
the thing with keeping secrets is... you can't keep them.
last night, as i was listening unconsciously to the pitter-patting of the rain, two of my bestest friends arrived: eikei( he's a he) and ems (she's a she, believe it or not). wah!
kala ko ba sa wednesday pa sila pupunta?
hehe.. i should have expected them to be like this...
palagi naman silang dagliang dumadating..
anyways, the reason they came is because of the thing that i've said to kim.. that i'll be telling them something.. i'll be telling them one of my secrets..
laughter. it has a tendency to lighten things up a bit.. i laugh. but i must tell it to them, even if the timing was not of that of the plan. i was nervous.. a lot of 'what ifs' came into my mind.. what if they don't understand? what if this ends our friendship?
but i've got to tell them..
i didn't know how.. the two of them were silent.. anticipating.. waiting for my words.. but i couldn't say it! i thought it would be easy, because a lot of people already know.. but these two people were different..
mas mahirap pala pag 'close' mo yung tao..
finally, ems suggested that i write it
nalang..
so i wrote the eight letter word.. hesitated to let them see it... but finally got enough guts to show them..
shocked.
they were shocked... well, ems was shocked. ankonim kinda got the idea even before i wrote the word. but the important thing is, they understood. i was happy, i couldn't explain it in words!
the feeling of finally telling them was great. now that my bestfriends know, i am ready to let everybody else know. hopefully, they'll understand.. but if they don't, then it will be sad...
i do not want my friends to feel pity for me. i do not need pity. what i need is an open mind and a heart that understand.
soon, everybody will know..soon, everbody will have to decide..i am not sure that everybody will stay.
-
Saturday, August 06, 2005 - 7:35 PM
prelims are coming.. jitters!!
and i can't seem to focus on my studies.. i need serious help!!
-
Wednesday, August 03, 2005 - 8:36 PM
criticisms..
the apprentices of the Artistang Artlets were required to attend to any of the two arts appreciation event last saturday ('Karsel', which is a play) and sunday (the cinema one digital film festival, cinema 12 SM megamall). of course, i attended both.
Karsel
ughh.. the play deals yet again with the 'patriotism' of filipinos. the regular 'let's-die-for-our-country' theme was again revived (yah right.) the play was quite dragging because i could almost always tell what was going to happen. i'm not saying that the play was a total flop, but..
oh, oh! and another thing is that we watched the play with another school (which i wouldn't reveal for certain obvious purposes). uughh.. they were so noisy and they were kinda slightly uncivilized.. thinking that they already are high school students. i mean, they must learn the values of ethics, or at least pretend to be ethical. total bummer. they were a big factor to how the play came out to be..
kakainis..
Cinema1 Digital Film Festival
we only watched two of the movies participating in this festival. we were to meet at the powerbooks at exactly 4pm.. but judgung from passed experiences, we came in 30 minutes late.. and surprise, suprise.. we still were the first to arrive.
'Sitak'
this is a really good movie. a story of a 'cheated-on' rich husband who had enough of his life and left his family to live a simple life of a taxi driver (sitak=taksi). on his many trips, he has helped a lot of people by counseling them on their problems. although i didn't like how the protagonist die.. he died when he ate a poisoned cake which wasn't really his.. the cake was intended to kill another person (his customer's husband). and to think that the protagonist was the one who helped the couple get back together.. tsk tsk.. well, arsenic is the best [way to poison]...
'Sandalang Bahay'
a funny story of three sister and their mother. although i couldn't fathom how one could stomach a dead corpse reclining at the back of your car.. and to think that the corpse belongs to your mother. eeww..
ughh.. okie, the films were great. i love them.
oh right, i got my left ear pierced. i have my reasons why i did it.. i'll tell you next time..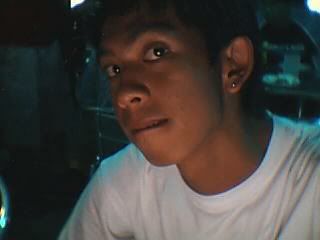 see??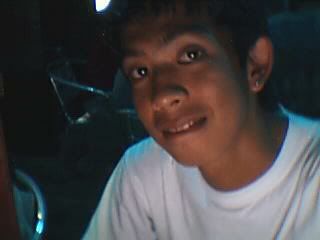 hiyah!!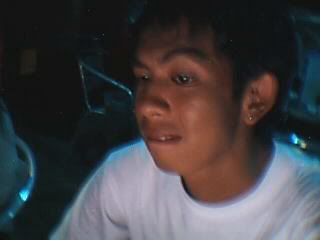 just lookin'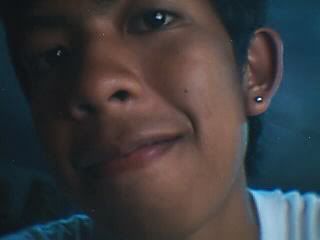 wah! i got so much of 'em pimples!!
well, till here nalang muna. gotta study for our theology prelims. ciao!
-