BLOG
Wednesday, April 26, 2006
- 9:56 PM
i went to uste last monday to fix my papers for shifting, and guess what? i could've taken summer classes. yup, and senora didn't even bother telling about it, so now i have to cross enroll. aarghh..
enough about that. mingu also came to school because, well, because she wants to. we ate at oogles (yay, i missed ginataang adobo) and as usual, played DOTA. it was the most romantic DOTA game i've ever had. kasi naman, the headsets weren't working and the background music were all date songs. plus, ang ganda pa ng lighting. kulang nalang candles and dinner.
i decided to go to Starbucks near mingu's (in tomas morato).
we talked about a lot of stuff over banana flavored drinks and pastry. about our batch in AA, about life, love, commercials, TV shows, coffee. a lot of things. finally, we decided that a night wouldn't be enough for our conversation. so we went to region four, where i live. hehe.
we really didn't know what to do, so we tried to contact our friends in the area. angge was the only one awake by then, and she told us to go to her place nalang.
we bought drinks and chips, and we started talking. oh, i made this song for our kada pala. it isn't really good, but i still like it kasi para sa kada.
we slept at around 5am already, then mingu and i went to my house. maliligo pa kasi ako. hinatid ko si mingu sa tomas, but we stayed at shakey's to bum a little more.
hay. bum.
-
Monday, April 24, 2006 - 10:05 PM
for the past few days, i have been stuck inside our house sitting in front of the television, eating my lola's own version of the halo-halo (which is really sweetened, vanilla-flavored bananas and some sago, ayaw daw ng lola ko ang kamote eh). as a result, i am now suffering a mild cold. in simpler terms, runny nose. sa tagalog, tulo-uhog.
anyways, with nothing else to do, i put my whole energy into watching television shows. let's put the focus on cartoons and anime.
yeah. cartoons. anime. shows that are seemingly made for the kids. thre are new animes that i have been following like One Piece, Snow Fairy Sugar, Naruto, Fullmetal Alchemist and they have brought back some of the oldies like Zenki and Anne of Green Gables. now, i have been a huge follower of moving drawings since i was a kid, but watching these shows now, now that i have a brain to function on my own, my views on these shows have changed.
kanina lang, i was watching One Piece on GMA 7 . it was an episode about this dog who was guarding his late master's petfood store. i cried. yep, i cried over petfood. the delivery and the story line were great.
i think you would not appreciate animes and cartoons until you are older. sure, we get amazed by how zenki kills mosters with his
kuko ni diva
and how he eats those eyes like seeds, but when you understand anime, it brings you into a new level of interest.
parang love lang...
-
Sunday, April 23, 2006 - 8:00 PM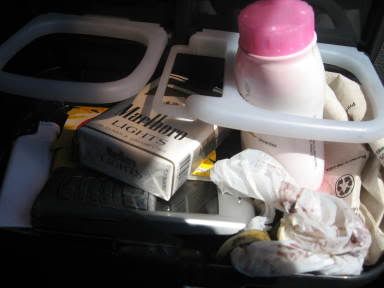 these are things that would remind me of tagaytay.
i have watched Sound of Music(100php, National bookstore, Shang) this morning, and watching the movie brought to me memories of our escapade to tagaytay.
mingu, jmee and i went to tagaytay on the HOLY weekend. it wasn't really planned. tita just went in mingu's room and told us that she wants to go to tagaytay, so we went. i had to go home to get some things, we called jmee up and told her about it and she went too.
we spent a night in tagaytay and got drunk (ng walang kalaban-laban).
the weekend wasn't really different from what we do when we hang out at mingu's. actually, we just bummed out-tagaytay version.
flashback:
round table. fat guy. rice. soup. big fish. people. shouts. curses. smiles. tears.
after that was a black out. not a literal black out, but one of words. lost for words. i was. we were.
what happened that day was a real shocker. it was. nothing anything like it ever happened to me before. well, maybe it did, but i fought back. in this case, i couldn't possibly fight back.
the hills are alive, with the sound of music...
i hope it was like the Sound of Music, where people burst into songs in every other conversation. then we could've expressed our anger beautifully.
but no.
nobody was singing.
-
Tuesday, April 18, 2006 - 2:09 PM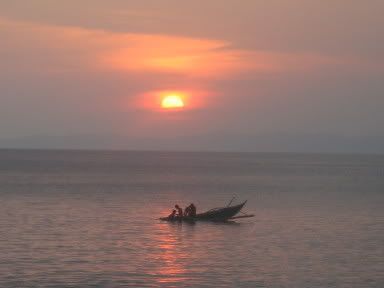 minsan ako'y pumikit at nakita ko ang akin sarili
pula, itim at puti
sa gitna ng malawak na karagatan,
lulan ng bankang lumalangoy ng nag-iisa.
sa aking mata'y kumikislap
ang liwanag ng kahel na araw
na nakasandal sa pisngi ng dalampasigan,
umiiyak dahil
sa panaginip na mawawaksan
sa pagdating ng buwan.
photo by mingu
-
Wednesday, April 12, 2006 - 6:36 PM
hey hey hey! so i've been away for quite a long time.. hmm..
okay, so hindi ko na-beat yung binigay kong deadline. hindi kasi ako nakauwi last night. anyways, i'm here and there's a lot of catching up to do.
so, what have i been up to this past few (or plenty) days? summer!!
yup, i have already started my summer with the rest of my Artistang Artlets gang. we had our Farewell (to the seniors) party in batangas for 3 days. i'll give you a run-through on the three day celebration.
day 1
we meet up in UST, where our manong driver is waiting for us. as expected, people were late so we started the journey quite.. well.. late.
anyway, we rode our way to batangas in a van. jmee, mingu, angge and i were sitting at the back. the trip was pretty much uneventful, we just watched 51st dates in angge's portable dvd player. we arrived at our stop over and ate our lunches at, whereelse but mcdonald's.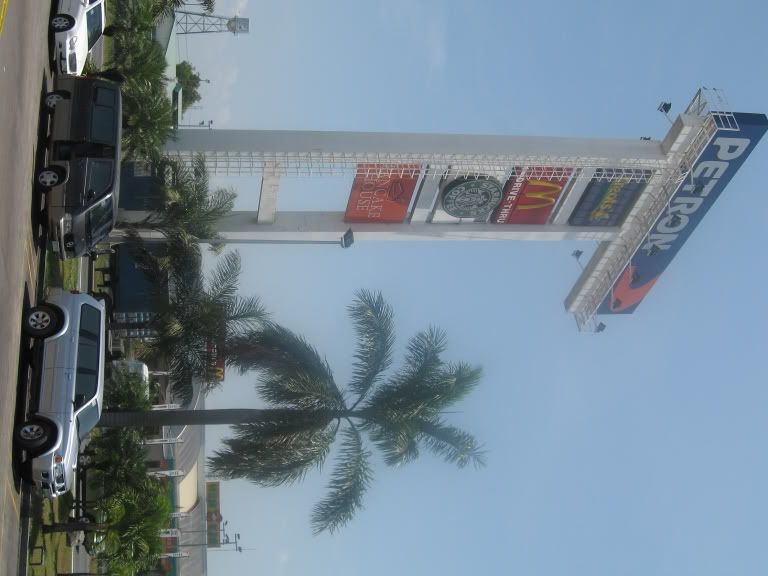 this is where we had our lunch.
of course, the chika moments.
after eating, we went back to our journey to the beach. hours pass by, and my but was starting to hurt. mingu and i just satisfied ourselves by taking pictures of the scenery we were passing.
a pattented ehji shot. :p all ehji shots are, well, shot's that i took.
and then we arrived. syempre we went beach-ing almost instantly. i love the sunsets at the beach.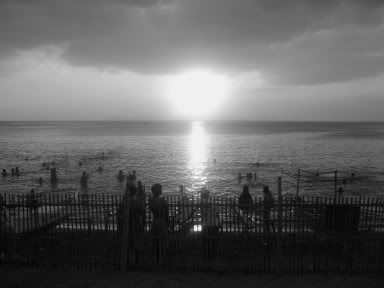 mingu shot.
three days of 'fun activities' like the favorite battle city. on our last night, we had to say goodbye to our seniors. this is it. WE had to talk.
i don't know if kuya diego meant it to be this way, but adrian and i were the last to speak. we spoke alright..
i really don't have a clear memory of what we talked about. all i remember was that i was crying. it was my farewell to the AA seniors. it is also my farewell to him..
friends. what defines friendship? argghh.. i really don't know anymore. it's like i don't even know a thing. friends. that made me dumb. one word that locked all of my vocabulary skill. all of the words i remember vanished except for one: FRIENDS.
i am in the middle of a whirlpool that i have been building for quite a while now. and this whirlpool is pulling me in, deeper by the day. and i don't know if i want to get out of the whirlpool.. i mean, what's the difference of being in or out of the whirlpool? in any case, i still am left with the feeling of nausea. vomitting won't do any good. my 40php pain reliever won't do. i am left with nothing to decide on.
farewell.
-